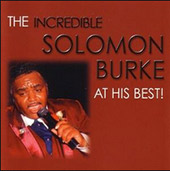 Any fan of soul music should recognize the name Solomon Burke. Born in Philadelphia, Pennsylvania, Burke was a preacher, singer, and pioneer of soul music. With his background in gospel, jazz, country, and blues, Burke helped shaped the sound of soul music, developing his unique style that earned him the nicknames "King Solomon," The King of Rock 'n' Soul", "Bishop of Soul", and the "Muhammad Ali of soul". According to the Rock and Roll Hall of Fame, "Burke's versatile, force-of-nature voice combined gospel fervor, country gentility, and R&B grit." Despite the praise and heavy influence on the genre, Burke had minimal success on the charts and never produced a Top-20 hit. However, he sold more than 17 million records throughout his career and is known as one of the "greatest vocalists of the soul era".
Did You Know:
Solomon Burke was born James Solomon McDonald on March 21, 1940.
He began preaching when he was 7 years old, earning him the name "The Wonder Boy Preacher".
In 1955, Burke signed with his first label, Apollo Records. He was just 14 years old.
In 1978, Burke released an album "Please Don't Say Goodbye To Me" through Amherst Records.
His song "Cry to Me" was used in the background of "Dirty Dancing", starring Jennifer Grey and Patrick Swayze.
The song "Please Don't Say Goodbye To Me" was on the R&B chart for 4 weeks and peaked at no. 91.
Burke performed professionally for 55 years.
Burke released 38 studio albums.
Burke had 35 charted singles.
Burke had 21 children, 90 grandchildren, and 19 great-grandchildren.
Jerry Wexler, the legendary Atlantic Records producer, is credited with saying "The best soul singer of all time is Solomon Burke."
In 2001, Burke was inducted into the Rock and Roll Hall of Fame.
In 2003, his album "Don't Give Up on Me" won the Grammy Award for "Best Contemporary Blues Album."
In 2008, Burke was ranked no. 89 on its list of "100 Greatest Singers of All Time".
On October 10, 2010, Burke passed away at Amsterdam Schiphol Airport.
His final album "Hold on Tight" was released in March 2011.
The Incredible Solomon Burke At His Best
Interested in Licensing a song by Solomon Burke?
Amherst Records is a great source for all of your audio production needs. Our music can be licensed for use in films, TV shows, commercials, videos, games and more. Find the music you need from our artists, then connect with us to assure the perfect soundtrack.